Wall Murals and Custom Wall Coverings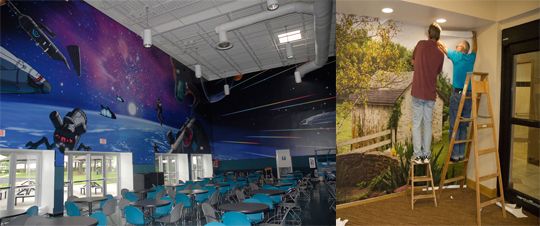 Large format digital printing has opened up exciting and cost effective ways to create custom wall murals of any size. There are two types of media available:
- Wall murals can be printed on special adhesive vinyls and protected with a laminate to allow cleaning and scratch protection.
- Alternatively, murals can be produced on digitally printable commercial grade 20 oz. wallcovering media which is available in a large selection of embossed surface finishes (sand, stucco, woven, plaster to name a few), as well as smooth finishes. Liquid coatings can be added for extra protection. Please call to see samples.
- Last but not least, Phototex adhesive fabric can be employed to create murals that can easily be removed, repositioned and re-used without leaving any residue.