Floor and Wall Graphics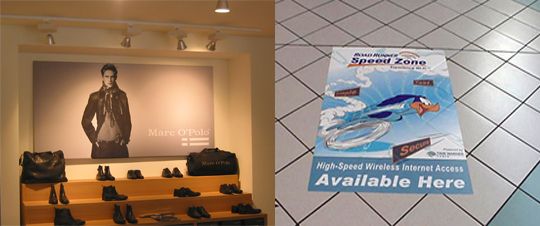 Floor and wall graphics are more than just signage; they create an environment.
Wall graphics can be created in a variety of ways, for example:
- printed on fabric and held in a tension frame (easy to change out)
- printed on adhesive Phototex fabric - it sticks anywhere, repositionable, leaves no residue
- the classic way printed on photopaper and mounted to Gatorfoam boards
- prints on plexiglass and arranged for a three dimensional look with stand-off mounts
Floor graphics are in a class of their own. Durability and slip resistance are some of the characteristics you will be looking for. We even have media for carpet floors!