Welcome to Our Website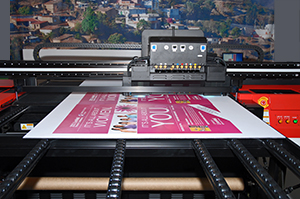 If you are looking for top-quality graphics, signage, banners, exhibit systems, photographic printing and art reproduction, you have come to the right place.
We try to be more than just printers. Our goal is to be your partner and develop with you innovative and optimal solutions, from the initial concept to the finished product. Your success is our success.
We are based in Houston (Webster), TX and serve customers throughout the US. Contact us for any information and help with your project and you will receive a prompt response.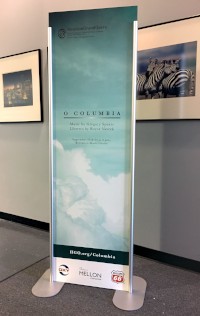 Featured Product
The Skyscraper board stand for large and double sided signs is simply better than any stand that is holding the bord on the bottom edge only, It is very very stable, and adjustable to any size 1/2" boards up to 60" wide, The uprights keep the board straight with no leaning and are protecting the edges from denting. The stands can be configured in may ways including as quads and "T" shapes. For more details and pricing please Click Here

Prints on Fabric
PRINTESTO is a special site for outdoor promotional and signage products printed on fabrics. This includes flags, windsails, street banners, pole banners, fabric barrier systems, fence wraps, tents, umbrellas and more. Click on the logo to access a comprehensive, interactive catalogue.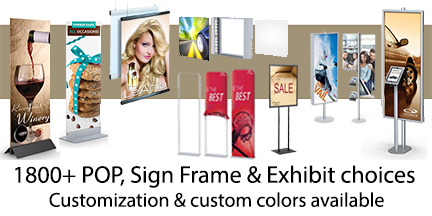 Display & Signage
Click here or on the image to the left to access our comprehensive website for every imaginable type of signage frames, poster holders and many other display systems for your place of business, showroom, store and venue. Or download and view the 178 page The Display Folio catalogue for ideas and solutions.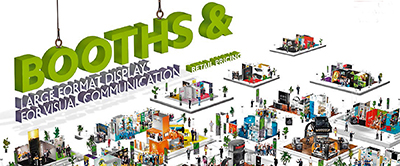 Trade Show and Exhibit Solutions
From a single banner stand to a custom booth we are able to provide you with an exhibit solution specifcally designed to meet your vision, requirements and budget. Please download the 100+ page catalogue that shows not only the wide selection of systems and components available but also many display solutions and configurations. Furthermore, the catalogue contains pricing for all systems and components complete with graphics. For modular 10' and 20' booths a rental price option is also included. Click here to download catalogue.